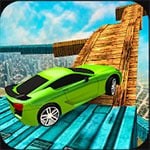 Welcome to the world of Impossible Tracks Stunt Car Racing Game. Enjoy the real impossible track race on the endless extreme impossible tracks in the sky highs. If you are a fast speed racer and have a passion for car racing games. Then be ready to experience the real car rally in the mid of sky with no limits in free games. Rush like a crazy stunt master. While riding the beautifully designed real impossible tracks in Impossible Tracks Stunt Car Racing Game. The impossible racing is a real challenge. So fasten your seat belt before taking off and win this car racing simulator game. Unlike other car stunt games, this off road car rally is going to be a real fun and adventure of car games.
You will surely get addicted to this insane car racer game. Play Impossible Tracks Stunt Car Racing. And enjoy the crazy and insane impossible tracks simulator in most realistic manner of car game. There are several sports car available in this real impossible track game to perform the incredible stunts on the ramps. Select your favorite ride in impossible game. And start discovering the most dangerous and curvy off road tracks of the racing world. The narrow and sharp racing tracks are built over the city in the endless blue sky. So play each thrilling racing mission with extreme care and get to the finish line within time. You have to complete each impossible race mission in order to unlock the next one in Impossible Tracks Stunt Car Racing Game. Be perfect while taking the sharp and narrow turns and rush like a pro stunt master.
Also make sure to check out Impossible Truck Track Driving Game, you may enjoy playing it.