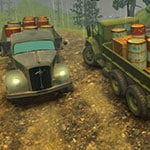 Play free off road cargo drive simulator games online like this new game called Off-Road Rain: Cargo Simulator. As the best trucker, you have been designated as the driver and must transport cargo in the hills and mountains. As you will see the weather conditions are bad with pouring rains, fast blowing, and powerful winds. So drive the three different cargo trucks each one with a limited number of objects in the trailers on off-road and carefully don't lose the heavy goods.
Off-Road Rain: Cargo Simulator Game is made for those who don't give up easily on impossible driving roads. So make sure you improve your skills, unlock better and faster powerful trucks to be able to easily get the goods to the destinations. With 30 levels a lot of muddy twisted roads, a moment of inattention and the trucks can overturn and you can lose all your cargo. Do you love to play cargo driving games? If yes then you will enjoy playing Off-Road Rain: Cargo Simulator Game.
Tips and tricks:
To win the game drive the trucks slowly over the bumpy roads. Never braked in the slope. So try to finish all the levels with 3 stars to get the best score in the game.
Off-Road Rain: Cargo Simulator Game Features:
Enjoy a beautiful 3D truck cargo and delivery simulator game. Nice looking 3D graphics with detailed trucks and levels. 30 challenging levels. 3 different trucks. Star rating system. Nice sounds and realistic physiques collisions. Easy and fun to play.
Also make sure to check out Xtrem Impossible Cargo Truck Simulator Game, you may enjoy playing it.