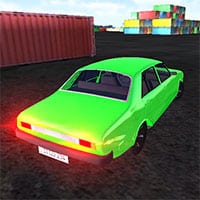 Port Car Parking is a beautiful parking game with wonderful 3D graphics. In this game, you will drive a green car and your goal is to go around the seaport to find a parking space for your vehicle. You must park as fast as you can while avoid hitting various obstacles and other vehicles. The game also features a toggle-able night mode where you can play the same level but during night-time. Earn money and use it to upgrade your car or buy brand new rides.
The ship is about to leave and you are still in your car! Drive around the seaport and find a parking space quickly in Port Car Parking! Will you be able to complete all 59 levels?
Port Car Parking is a free online driving game on Round Games.