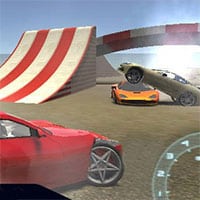 Scrap GL is a racing and driving simulation game where you get a chance to get behind the wheel and drive many super cars. The game is mostly a free roam, in which you are able to control 4 super-cars and roam around freely in the map. You can also spawn ramps and other obstacles if you wish. The game features beautiful and realistic 3D graphics, smooth gameplay, awesome physics, and a multiplayer mode.
Get behind the wheel of a super car and test your driving skills. Avoid obstacles and do some stunts as you start the ride of your dreams in Scrap GL! Enjoy the beautiful graphics and have fun playing around with the super expensive cars.
Scrap GL is a free online driving game on Round Games.