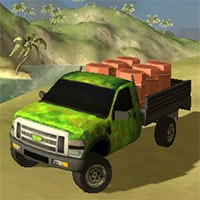 Tropical Delivery is an awesome delivery game set on a gorgeous tropical island paradise. Your mission is simple. You must deliver vital supplies and cargo in your truck safely and all in one piece to the final destination. This might sound easy but the terrain is difficult to traverse and you must drive quickly but carefully so that your cargo doesn't fall off of the wagon.
Before you start your delivery run you can choose which cargo you deliver, and you can also choose the weather conditions – this can have an effect on what score you can gain and of course the difficulty of your mission. Take on a variety of different routes and test your driving skills to the limit! Conquer the tropical island today and prove your worth as a cargo driver!
Tropical Delivery is a free online driving game on Round Games.