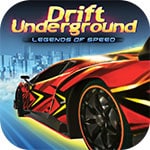 Underground Drift: Legends of Speed is a cool car driving game with colorful graphics and many ways to customize your car. Street races through the city at the best of times!
Underground Drift: Legends of Speed Game Features:
▪ Colorful realistic graphics.
▪ The game has an interesting storyline and additional missions. Become the king of the night streets and defeat all bosses.
▪ The open world is full of interesting races and places where you can hold jumps. Many racing tracks, such as ring tracks, sprints and specially equipped drift tracks.
▪ Earn reputation and money for drift, stunts and for winning races in Underground Drift: Legends of Speed Game. So buy cars that are suitable for your style of driving!
▪ A large number of racing cars: starting with sports cars, ending with oil carats and race cars. Chase from the police, in which you can take part, while taking a police car. And also for the drift specially created models on which you can have fun. And for those who want to just laugh heartily, a special clown machine is made that will not let you get bored in the races!
▪ Upgrade any car in the garage in Underground Drift: Legends of Speed Game! You can change the appearance of the car, its color, change the color of the wheels and the color of smoke from under the tires, and in addition you can set yourself neon and choose a color for it!
▪ Excellent optimization and flexible graphics settings.
Underground Drift: Legends of Speed Game has a convenient user interface and interesting gameplay. In conjunction with the realistic behavior of the car on the road will give you an incredible feeling! This game is a kind of newly developed online game. Which is exactly suitable for the game lovers who want to play a game in their time. So enjoy and have fun.