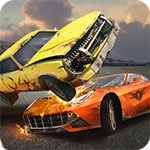 Xtreme Demolition Arena Derby is a game that lets you unleash your destructive side. You hop into an awesome demolition derby vehicle and try to smash other cars to earn points. Ensure that you look at your own damage and see how much you are taking as you can destroy yourself. As you play, you can unlock different car models so that you can cause destruction in-style. So enjoy and have fun.
Xtreme Derby Demolition Arena is a car crash racing game. Crashing game has never been so crazy. Xtreme Derby Demolition Arena includes the core concept of a demo derby and crashing within itself. Fasten your seat belt and sit tight to win demolition derby racing. Just hit hard & reckless all other derby cars, crash them and destruction rivals derby drivers to crash them while damaging to your own vehicle, hit hard again and again until you win alone at derby racing tracks. Drag other derby cars, in addition, push your ramp rivals off the track to win the car crash derby death race. Speed up your vintage car & truck and enjoy amazing car crash stunts. Demolition derby extreme car racing is an adventure and action-packed vehicle destruction game, where your car driving skills are tested to the extreme level with furious driving to recklessness.
Xtreme Demolition Arena Derby Game Features:
3D car demolition derby game.
Six awesome cars to drive.
Realistic destruction effects.
English announcer voice.
Two game modes: Career and Free Play.
Fullscreen available.
Also make sure to check out Scrap Metal 5 Game, you may enjoy playing it.