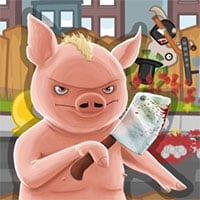 Iron Snout is a simple, fixed-screen, endless beat 'em up game where you take control of a piggy. In this game, a horde of hungry wolves will to get you to eat you and your goal is to fend them off for as long as you can and take as many wolves with you as possible. Use the arrow keys to kick, punch, slam, somersault, catch, throw, and do lots of other stuff!
The mean pack of wolves are trying to eat Mr. Piggy! Try to hold your ground for as long as you can in this endless action game – Iron Snout! Control the cute piglet and defeat as many wolves possible!
Iron Snout is a free online fighting game on Round Games.