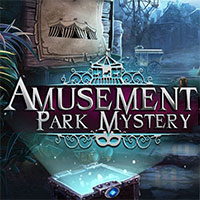 Amusement Park Mystery Game: Amusement parks are definitely some of the most visited places, everywhere in the world. Kids love them, they are simply enchanted by the attractions, such as rides and games, together with other events for entertainment purposes. But not just the kids. The grownups live them too and even there are some of the attractions that could be experienced only by adults. Some of those amusement parks are scary, some thematic, some are set of water and so on. But all of them provide a huge fun and are an excellent place to spend the spare time. And even though amusements parks should be safe place. A place where kids and adults could just enjoy and have incredible fun. It seems that they could be rather dangerous too…
In Amusement Park Mystery Game, it is about an abandoned amusement park but that it's not an excuse for what happens there. Namely, there are many cases of missing children in that town and all evidences point to the possibility that there is certain connection between them and the abandoned park. Still, we are not real professionals to figure out what was going on in that park. But that's why here is Claire. She is a detective that lives in this town. At the moment she is in the abandoned amusement park in her town to solve the mystery of the missing children. Those situations always need some extra help. So let's look around together and see what is going on in that mysterious place. You can play Amusement Park Mystery Game on all devices. So enjoy and have fun.
Also make sure to check Secret Park Game, you may enjoy playing it.