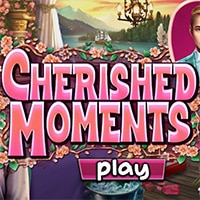 Cherished Moments Game: Jane is a professional wedding photographer. For years, she has been capturing the most beautiful moments of many people's lives with her camera. And she does it with great pleasure. She is happy that she catches the most beautiful scenes of wedding celebrations for the newlyweds and enjoys each next challenge. Each picture is a real challenge because, in each photo session, Jane tries to capture the sensibility of the couple who has a wedding and their experiences at that moment. After all, every wedding is authentic, and it's nice if the newlyweds remember it exactly as it was.
Today in Cherished Moments Game: Jane arrives at Helen's estate, where her wedding will happen. She is at the venue the day before the wedding. She has to prepare the grounds for the photos she will take tomorrow. Helen's brother, who knows his sister best, comes to the rescue and helps Jane to find all the necessary items for a successful photo session. Let's see how the preparations for this wedding are going. And help Jane in her preparations. You can play Cherished Moments Game on all devices. So enjoy and have fun.
Also make sure to check Memorable Moments Game, you may enjoy playing it.