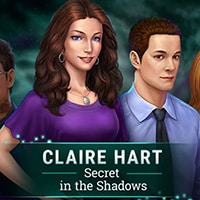 Claire Hart is back to solve more supernatural mysteries in Secret in the Shadows Game, and this time they're closer to home than ever. Join Claire and friends for a new series of adventures that bring long-buried family secrets back into the light. Help Claire Hart solve new cases and uncover the tangled web of intrigue surrounding her family. Claire can sense memories and feelings left behind on everyday objects. So help her find the clues to solve each case. Claire's journal will help you keep up with current goals and important story developments. Claire Hart: Secret in the Shadows is divided into Cases, Episodes and Chapters. Pick the episode you want to play, then work through each chapter. Some cases might contain multiple episodes, or just one.
Some notes about Claire Hart: Secret in the Shadows Game:
In Claire Hart: Secret in the Shadows Game: Claire keeps important note about the people she has met, case developments and more in her Journal. If you need a quick refresher on the case and your goals, take a look! At the bottom of the screen, you'll see the Object List. This list tells you which objects you need to find in the scene. Every chapter has 12 objects to find. You can find them in any order you want. In some chapters, Claire needs to find a special Story Object critical to her investigation.
Upon completing a chapter in Claire Hart: Secret in the Shadows Game, Claire will refer to the story object(s) in dialogue and share any insights she gains from them. Claire can use her Psychic Sensor ability to hone in on a hidden object. The closer you get, the faster her heart beats. Once used, it will take some time to recharge. At the end of each scene in Claire Hart: Secret in the Shadows Game, you'll get a Star Rating based on your performance. The Star Rating is based on how fast you completed the scene, your score, the number of miss-clicks and more. So play fast and accurate to get a perfect 5 stars in each scene.
Also make sure to check out Hidden Investigation Game, you may enjoy playing it.