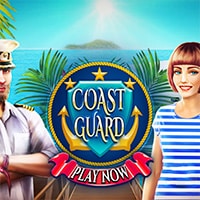 Coast Guard Game: Patricia and William are members of the coast guard which is actually a maritime security organization. This organization takes care of everything that happens on the coast, acting like heavily armed military force when there is a bigger treat. But also, they are tasked with search and rescue on the coast, when there is a need of that. This morning, Patricia and William have noticed something on the coast. It was about a small yacht that was coming closer to the coast. And that is not unusual, but usually the coast guard communicates with whoever comes near.
This time in Coast Guard Game: Patricia and William tried to communicate with the crew of the yacht. But after few unsuccessful attempts, they decided that it would be better if they go to the yacht and see why no one is giving return to their calls. Maybe the people on the yacht simply can't return the calls, but what if something has happened to them? What if they are trying to do some illegal action? We are about to see what is going on there, let's follow Patricia and William. You can play this game on all devices. Enjoy and have fun in playing Coast Guard Game.
Also make sure to check out Stone Temple Guardians Game, you may enjoy playing it.