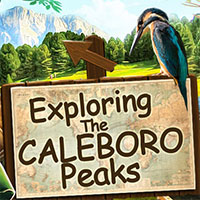 Today in Exploring the Caleboro Peaks Game we are giving you one of the toughest tasks ever. Off course, we are joking a bit. Actually, we are giving you a lovely obligation, to deal with something nice. No matter if you have any experience with photographs as art or just as an amateur, we all have the eye to say this is nice and this is not, or this is good thing to become an art. People who have sharp eye to spot the perfect place for an art to be made, like to explore, like to take pictures of people, of animals, of nature, or maybe interior, they have one of the best jobs ever.
Photographers usually travel a lot, go different places, sometimes they look for spots that no one else has ever seen. And that is one of the beauty of this profession. Our artist today in Exploring the Caleboro Peaks Game is Ashley. You can guess that is a photographer, and she actually is a very good one. She decided to explore a new place, go to the mountain and actually catch the best beauty ever. Ashley adores nature, mountain, river, highlands. There she is now, trying to find the perfect spot for the photo session. And you, our friend are here to help her. Good luck to the both! You can play Exploring the Caleboro Peaks Game on all devices. So enjoy and have fun.
Also make sure to check River of Joy Game, you may enjoy playing it.