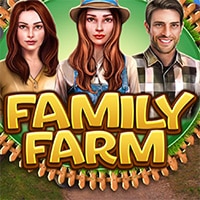 Family Farm: Hidden Objects Game: Working on a farm can be very interesting. Maybe it is a little bit hard and demanding. But when you see the final products, the pleasure is so big that every effort becomes worth it. Maybe a few years ago, fewer and fewer people decided to do farming, but lately, humanity started facing the bad consequences of mass production and the industry in general. So people started coming back to their roots. People are striving for their products, properly grown, healthy and organic, rather than something that may appear cheap in the market, but is treated with various unsuitable preparations, just to preserve its durability and appearance.
In Family Farm: Hidden Objects Game: The sisters, Nancy and Sandra, together with their brother Timothy, have their farm. They grow the most apples on their farm. The harvest season has just begun, and now they need help the most. Their plantation is large, and they don't want their apples to wither, so now is the right time for us to join in the harvest. Let's help Nancy, Sandra, and Timothy with their responsibilities on their family farm. You can play Family Farm: Hidden Objects Game on all devices. So enjoy and have fun.
Also make sure to check Hidden Belongings Game, you may enjoy playing it.