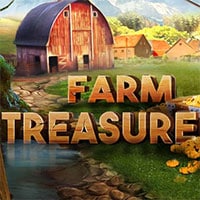 Farm Treasure Game: Paul and Kimberly own a small farm. They are great farmers and real professionals in what they do. Because both of them love the nature. Both of them love to spend their time taking care of the animals, of fruits and vegetables. In Farm Treasure Game, they really appreciate those things as important factors for living a quality life. Besides this dedication, Paul has one more hobby. He likes to cultivate the earth in order to produce different products. But also he is fascinated by the treasures that are also hidden in the earth.
Maybe he doesn't believe that he will find a hidden treasure in his farm. But he sees himself as an archaeologist amateur because he has bought a metal detector and he uses his free time to explore the earth.
Through Farm Treasure Game: Paul has been concentrated on exploring the earth in his farm. He does that without any big expectations, just from curiosity, but he does it very carefully, searching every acre from it. And no one expected that he will find a huge treasure with his metal detector, right in his farm. Paul told his wife Kimberly about this huge discovery and both of them, feeling really excited. Decided to call their friends and relatives, to help them dug up the valuable artifacts and the metal coins that could be found on the farm. Enjoy and have fun in playing Farm Treasure Game.