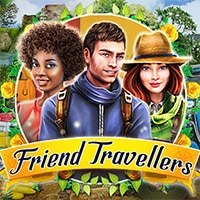 Friend Travelers Game: Each one of us has his/her own passion, right? What is your biggest passion? The three friends Sarah, Charles, and Donna share the same passion – traveling all around the world and discovering new places. They use every chance to go somewhere and explore a new place. Sometimes those places are near. But sometimes they go on long trips, just to visit something that seems interesting for them. Today in Friend Travelers Game: Sarah, Charles, and Donna are preparing themselves for their new adventure – India.
The Taj Mahal, The Golden Temple of Amritsar, The Red Fort, are just part of the amazing sights that can be seen in India. Not to mention that the culture of India differs from any other culture in the world. So it will be a great opportunity to learn something new. The three friends travelers have arrived in this country and they hardly wait to start exploring. They have a long list of places they want to see, so we could join them in the adventure and learn something new about this exotic country. You can play Friend Travelers Game on all devices. So enjoy and have fun.
Also make sure to check Travel Memories Game and Adventure Friends Game. You may enjoy playing them.