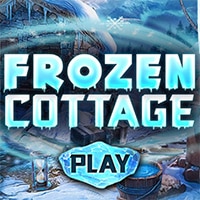 Frozen Cottage Game: When traveling to a place that is not that familiar for us or we don't know the road that leads us to that place, we can't predict for sure what can be expected from that trip. At the moment Grace is traveling to her grandmother's village. She wanted to visit this place for a long period of time. So nothing could stop her to take this trip now. She didn't expect that the bad weather could increase the time for traveling. So the night came sooner than it was expected. Grace was wondering what should she do, to continue the trip during the night. Or to drive at night. But she suddenly noticed one small frozen cottage.
This cottage in Frozen Cottage Game, looks like the ones in the stories. So it seems that it is a good idea for Grace, to spend the night there. It can be risky and even dangerous to continue her trip on such a bad weather. But in the morning things will be very different. Let's check out this frozen cottage together with Grace and see what expects her there. We believe that Grace's stay in the cottage will be another great experience for her, ahead of grandma's visit. You can play Frozen Cottage game on all devices. So enjoy and have fun.
Also make sure to check Frozen Valley Game and Frozen Cave Game. You may enjoy playing them.