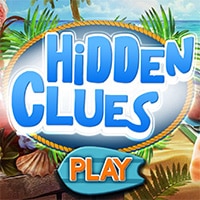 Hidden Clues Game: Sharon and Ryan arrive at the island Mambora. It is supposed that this is the place where resided the thieves of rare gold coins. Those golden coins were stolen from one private collection. They date from the time of the Roman Empire and their value is invaluable. Their historical value is far bigger because there are not many of them, they are really hard to be found. Our two adventurers Sharon and Ryan are ready to take one new adventure, a rather dangerous one in Hidden Clues Game. Their mission is to find traces and pieces of evidence about the robbery. But at the same time, they are here to find the stolen gold coins.
This will be an interesting adventure because they are visiting this particular island, a very special and interesting place. Since this is not a very easy mission, our adventurers will need some help from you. Let's search the whole island together and see if we can find something that will lead us to the ones who are responsible for stealing the valuable coins. Let's search every area, and we are sure that we will get to the wanted objects. You can play this game on all devices. So enjoy and have fun in playing Hidden Clues Game.
Also make sure to check House of Hidden Clues Game, you may enjoy playing it.