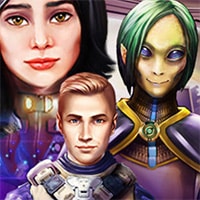 Interstellar Mission Game: The astronauts Dorothy and David are on a special mission. Namely, they will do something really unique. They prepare themselves to go on a mission, with intention to find out new planets. In Interstellar Mission, they are focused on discovering planets with living beings. And since the space is not the place where Dorothy and David live, because they come from the Earth, they have invited a real alien, the alien Org, to be their guide. The alien knows few other planets with life. So he will help the two astronauts complete their mission successfully.
Dorothy and David are on their way to something big in Interstellar Mission Game, and they are really excited about the whole situation. In their career they have been witnesses of many big things. So these discoveries will be something that will make them richer because it's not something that every person has a chance to see. It's time for the mission to start, so let's see what is it about. We know that you are curious to find out which planets hide life. And maybe to see how do the aliens look like. You can play Interstellar Mission Game on all devices. So enjoy and have fun.
Also make sure to check High School Mission Game and Escape the Dark Game. You may enjoy playing them.