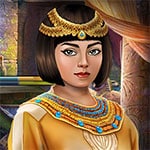 Land of the Pharaohs Game: Egyptian mythology and stories are always interesting for us. They inspire us in creating new games, new riddles and challenges. Whenever Egypt is mentioned, it means that something intriguing is happening or a pharaoh is in trouble, or some egyptologist has to find some very rare object. In Land of the Pharaohs Game: Chione is a girl from Egypt. She arrives in the holy temple of pharaohs. Rarely someone could ever visit this place because pharaohs usually rested here.
Now, Chione is confronted to find all the rare objects from this place and after she finishes this mission, her job is not going to be done. The challenge comes later in Land of the Pharaohs. She should find all the golden coins that are hidden here. Her main mission actually is to help Masud who lives nearby this temple. Masud knows this territory very well. So now, we come to the point where we need for your help in Land of the Pharaohs Game. Help this lady be a hero in Masud's eyes. She is not scared of anything, we believe you too. You can play Land of the Pharaohs game on all devices. So enjoy and have fun.
Also make sure to check Pharaohs Scrolls Game and Ruins of Neferkara Game. You may enjoy playing them.