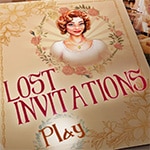 Lost Invitations Game: We all feel bored from time to time, and we are looking for a way to have fun. Sometimes it is enough to go outside, somewhere in nature and do some leisure activity. Sometimes we choose to go out with our friends. Maybe to visit some amusement park… but sometimes we simply wish for a good home party! And those parties are usually really good because the only intention of all people there is to have fun! And Caroline was having this feeling in Lost Invitations Game when she decided to prepare a party at home. Her intention was to invite many people and make a good party.
Well that's a really great idea! But, before the actual party starts, there are some things that need to be done, like preparing the house for the party. The first step is cleaning the place and that asks for some efforts, right? Caroline has also made invitations for her party. But somehow, she has lost these invitations around the house. So cleaning will be a good chance to find them. Let's help Caroline organize the best party ever! You can play Lost Invitations game on all devices. So enjoy and have fun.
Also make sure to check out Lost Campers Game and Lost Documents Game. You may enjoy playing them.