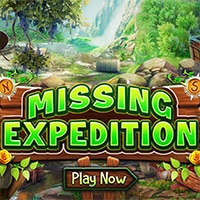 Missing Expedition Game: Peter has a very interesting job. He works as a ranger in the national park and spends every day in beautiful nature. Ranger Peter is responsible for the national park where he works and for the safety of the mountaineers who come here every day. No one can predict their behavior. Some are very disciplined, follow all safety instructions, are well-prepared, and avoid any kind of trouble. On the other hand, some do everything on their own and think they know it best.
However, there is no exact rule for who gets into trouble more often because nature is so unpredictable that it often knows how to surprise its visitors. Peter is on a dangerous mission today in Missing Expedition Game. Namely, one adventure expedition consisting of 5 mountaineers got lost in the national park. Peter cannot guess what exactly happened, and what he might encounter on the way. But the safety of these people is his duty. Peter has the task of following the tracks of the expedition and finding out where the climbers are at the moment. You can play Missing Expedition Game on all devices. So enjoy and have fun.
Also make sure to check Woodland Expedition Game and Science Expedition Game. You may enjoy playing them.