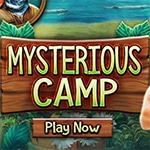 Mysterious Camp Game: Camping always sounds like good idea. It seems that when we are camping, we are closest to the nature because we could feel everything so near. We sleep under the open sky, we feel the weather changes, we may even face some animal that keeps safe its own territory…. And even if this may sound little bit scary sometimes, it is so beautiful as a matter of fact. That's why Michael and Thomas, two good friends, choose camping very often as a way to relax and have a great time. Michael arrives in the mysterious camp that is located near the mountain lake. His friend Thomas was staying in this camp for few days but suddenly he disappeared from there.
There are few days already since he went missing. So Michael started to worry a lot, thinking if something bad happened to him. What if it is about something that threatened his life?! Is his friend still alive? Michael simply can't stay still so he, together with his two friends Susan and Karen, decide to start searching for Thomas. They like to find out what exactly happened to Thomas. You can play this game on all devices. So enjoy and have fun in playing Mysterious Camp Game.
Also make sure to check out Lost Campers Game and Lost in the Wilderness Game. You may enjoy playing them.