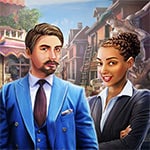 Mysterious Painter Game: Art is not just a source of inspiration but a great mystery too. Artists often add curious little details to their paintings. Or leave messages that are impossible to notice at first glance. Finding out the secrets of paintings and their painters never ceases to surprise us! Today we embark on an adventure to uncover a great art mystery! In Mysterious Painter Game: Ryan and Samantha are appraisers who determine the value of artwork. They train specialists who evaluate art and give a written statement of its value. It is hard to establish fixed values for artworks, especially if they are created by a Mysterious Painter.
Recently they found two paintings of tremendous value painted by an unknown artist. Very little is known about the pictures, and even less about their author. Together with their team Ryan and Samantha arrive in Europe to find out more about the paintings, about the anonymous painter and undercover his true identity. Hop on board on our adventure. Explore the unknown to find all the clues that will lead us to the mysterious painter. You can play Mysterious Painter Game on all devices. So enjoy and have fun.
Also make sure to check Hidden Masterpiece Game, you may enjoy playing it.