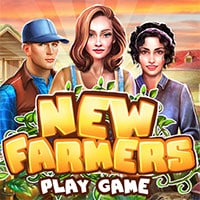 New Farmers Game: What is life if not a bunch full of days and months and years of experience, new things, challenges? If we don't go with the flow and act like we are not satisfied with the ones we are and the things we do, we will forget to be better actually. And life is short, it is not a rehearsal, it is actually a premiere. Yes, off course, it gives us second chances. But it will be better if you don't put yourself in cases to look for a second chance, but actually, use the moments and celebrate life.
It is in human nature to look for new moments, new challenges. You can live in one town than another, in one country than another. The worst thing is to get used to one thing. Our heroes of the game decided to give chance to a farmers' life. Deborah, Gary and Amy are new farmers who arrive at Jack's Farm. They should begin with their farmer stuff, but experience and help are the things that they need very necessarily. Our player is here to help around with the everyday obligations on the farm. You can play New Farmers game on all devices. So enjoy and have fun.
Also make sure to check Farm Workers Game and Blocky Farm Game. You may enjoy playing them.