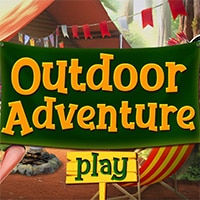 Outdoor Adventure Game: Scouting is the favorite activity of many children. There they learn many things, learn to love nature and to deal with the challenges there, but they also learn many useful things for life, that's for sure. Yes, they get along with nature, but that's what they do while they make friends, in larger groups, so the ability to get along with their peers is one more skill they get. Olivia is the main instructor and teacher at the scouting school in Outdoor Adventure Game.
She has had this passion since she was little. So she was very happy when she started doing this job, often thinking that she is really lucky to be doing something that gives her such great satisfaction. Every year, a large number of children visit this school located in beautiful nature. The parents have great confidence in the whole operation, and the children are very satisfied. The program at the scout school is well-prepared and adapted to all children. Olivia has many activities planned for today, let's help her with that. You can play Outdoor Adventure Game on all devices. So enjoy and have fun.
Also make sure to check Seaside Adventure Game, you may enjoy playing it.