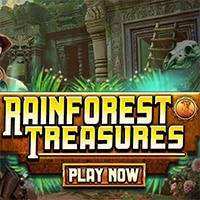 Rainforest Treasures Game: The discovery of traces of an unknown civilization may seem insignificant to an ordinary person. But it holds great significance for humanity. All the remains of a past civilization are a testimony of a culture that no longer exists. But leaves traces in the development of future cultures, providing a basis for further development. Archaeologists are constantly looking for something like that, but on the other hand, some enthusiasts also want to embark on various adventures in search of something new.
In Rainforest Treasures Game, we have adventurers Joshua and Michelle who are on the verge of discovering one of the greatest discoveries of this century. By chance, they discover remains of an unknown civilization deep in the rainforest. The excitement among our adventurers is immense. They can't wait to search the whole forest and see what's hiding there. Any discovery like this is great for human civilization, so let's see together what can be found in the woods. Rainforest Treasures Game is exactly suitable for the search game lovers who want to play a game in their time. You can play it on all devices. So enjoy and have fun.
Also make sure to check Oceanic Treasures Game, you may enjoy playing it.