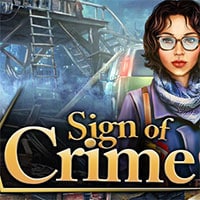 Sign of Crime Game: One of the saddest things that a dead person' family must face is the truth of accepting that that person is no longer there with us. If it is older person we are talking about, than it is easier to accept. But what happens when you get to deal with a murder of a close person? Then, though the pain is greater than a mountain. But it becomes even bigger because you don't know who is the evil person that took away that person from you. And it is normal to be suspicious. And to ask for a lot of questions what has really happened and how could someone do such a thing to someone closer. Unfortunately not every suicide that the authorities claim to be, actually is.
In today's game we are introducing you with very dedicated detectives who will want to help people in trouble. In Sign of Crime Game: Steven and Kimberly are detectives who together with their team are on the place where doctor Brian's body was found. They came to this place so they could find any kind of evidence on his death. Because Dr. Brian's family is suspicious and believes that we are talking about murder, not suicide as the authorities say. The pursuit may begin. Enjoy and have fun in playing Sign of Crime Game.
Also make sure to check out Suspicious Baggage Game, you may enjoy playing it.