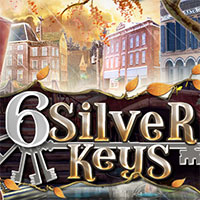 Six Silver Keys Game: When it comes about big wars, everything is possible, even some big things to disappear… The Amber Room is a world-famous hall decorated in amber panels backed with gold leaf and mirrors. It has been located in the Catherine Palace of Tsarskoye Selo near Saint Petersburg. At first it was constructed in the 18th century in Prussia, but this Room vanished during World War II. The Room was looted during World War II by the Army Group North of Nazi Germany. And no one knows where it is now. Also, maybe you didn't know but before the room was lost, it was considered as an 'Eighth Wonder of the World'.
According to some traces, the Amber Room was brought to a certain small German city for reconstruction and display. But there are no concrete proofs. At the moment in Six Silver Keys Game: Rita is in a small European city in the south of Germany. She believes that exactly in that city are hidden the six silver keys that are able to unlock the Amber room. It is about the famous golden room that had mysteriously disappeared during the World War II. Rita is at the place together with Monica and Joshua. They start together the search for those six keys that will help them open a big mystery and perhaps even solve this mystery. Let's look around together and take part in this huge and important discovery. Enjoy and have fun in playing Six Silver Keys Game.
Also make sure to check out Palace of Pearls Game, you may enjoy playing it.