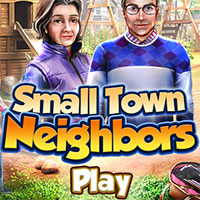 Small Town Neighbors Game: Different people have a different attitude when it comes to neighbors. There are people that are obsessed by the idea of having neighbors that will be their best friends. They hope of sharing same interests with the neighbors, spending the holidays with them. And they are even prepared to change the place of living, even though the only thing that didn't suit them were the people living in the house opposite them. On the other hand, there are people that don't pay any attention to the neighbors. They only share one 'Good morning' with them, or not even that because they consider not being important who their neighbors are. However, everyone could use some help in a certain situation…
The Story of Small Town Neighbors Game:
Arthur and Judith have just retired from work and they've decided to move into some quieter place. After some time spend on thinking and considering all the aspects. They've decided that a small town would be the perfect place for them. Where they could continue their lives without the noise that comes from the urban living in the big cities.
The two retirees buy a house in this small town. And they are very surprised by their new neighbors and the positive welcome they have for them. The neighbors offer to help them in the process of moving in because every process like this is rather complicated. All the stuff that come from the old house should be placed in the new one and that has to be done with a lot of attention because usually most of the objects are fragile. The new neighbors are already here, waiting to start helping and Arthur and Judith are very happy about that. Finally enjoy playing Small Town Neighbors Game.
Also make sure to check Town of Treasures Game, you may enjoy playing it.