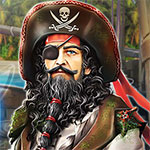 The Captain's Treasure Game: Hector Rackham was a legendary pirate, probably the first pirate ever known. That means that he was an authority for the pirates who lived in the same period. But also he was an example for the pirates who came after him. Captain Edward and his crew are some of the pirates who decide to follow Rackham's steps and try to find his belongings. More precisely, the captain Edward and his crew are searching for the lost treasure of the legendary Hector Rackham. But this search is not easy at all and it actually lasts for a very long period of time.
After years of searching, captain Edward suddenly found a clue that points to a mysterious island. As a matter of fact, this island is hidden from every map in the world. Which means that probably this place has never been visited by anyone before. Captain Edward and his crew are arriving at the island to search for the long lost treasure. Hoping that they will be the ones that will find the treasure of the great legendary pirate. We may enjoy our pirate adventure and let's hope that our pirates will find what they are looking for so many years. So enjoy and have fun in playing The Captain's Treasure Game.
Also make sure to check out Treasure of the Hill House Game, you may enjoy playing it.