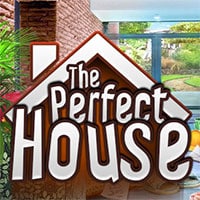 The Perfect House Game: Holiday season is the most beloved period of the year for everyone. The children don't go to school or kindergarten. The grownups take their vacation during that period and they all go somewhere together. However, in praxis it happens a family not to be able to be together during the holiday season. Someone can't take the holiday in that period. The kids have exams that need to be done. The grownups have some kind of work that needs to be done… In The Perfect House Game: Eric's wife, together with their kids, are on a weekend in their weekend house that is located near the lake.
The Perfect House Game is a perfect cleaning hidden object game:
Eric is not with them. He decided to stay in the house because he had a lot of work to do. Since the day of their coming home is near, Eric decided to make his family a great surprise. He likes to clean the entire house and do all the repairs that need to be done in the house. He likes to make everything perfect for his family so he will start cleaning very soon. Maybe this house is not that ruined but like every other house, it asks for some renovation from time to time. And since Eric likes to make the house perfect. He will have a lot of work that needs to be done. And he could do that on his own but it would be even better if you could help him do the job.
That way he will be less tired and he will be able to notice every tiny detail that is not right in the house. Which means that he will get closer to what he calls, the perfect house. Let's help Eric make the big surprise and welcome his family in their perfect home. So enjoy and have fun in playing The Perfect House Game.
Also make sure to check Enchanted House Game, you may enjoy playing it.