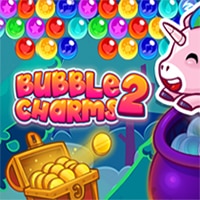 Bubble Charms 2, play this addicting bubble shooter game with cute pets. Shoot bubbles to form groups of 3 or more of the same color. Destroy bubbles, earn points, and move to the next stage with special power-ups.
Bubble charms 2 is the sequel to the popular game bubble charms. Help Nioko clear all the bubble fields. If you progress in the game you can choose other characters, each with it's own specialties and powerups. In Bubble charms 2 you start with Nioko, her specials powerup is the green color bomb, it explodes all green bubbles.
Some levels require you to collect a number of bubbles in a specific color. During the game you always have a shooting guide, so you will see where you shoot your bubble, you can also bounce the bubbles against the walls to get in that difficult to reach spot.