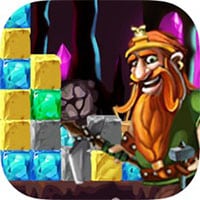 Gold Hunt. Dig a mine to find the hidden treasures! Destroy the blocks by matching blocks of the same color. Golden blocks and gem blocks give additional score!
It is a fun Collapse game. Try to collect 3 gold. Click on a group of 3 or more items of the same color. If you can collect 3 gold you advance to the next level. This game can be played on all devices. This game is one of the match 3 games on RoundGames. Enjoy and have fun in playing this free online game.
Gold Hunt is a free online match 3 game on Round Games.