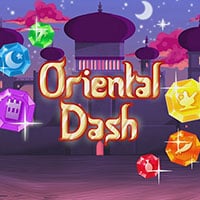 Oriental Dash. Enjoy a brand new diamond dash in the atmosphere of Oriental nights with Oriental Dash. Have a lot of fun with this puzzle game, its exhilarating rhythm and its beautiful graphics. Do your best to reach the highest score in two game modes that will constitute a diversified challenge.
Oriental Dash is a match 3 game in which you must touch group of diamonds to make them explode. Chain explosions as fast as you can to get a fury mode and use your magical powers to earn a lot of points. Be careful, if you touch a group that contain less than three diamonds, it won't explode!
Show your superiority through two game mode. In the Time Trial Mode, you have two minutes to earn the biggest score while in the survival mode, you must reach an ever growing score. Until where will you be able to go?