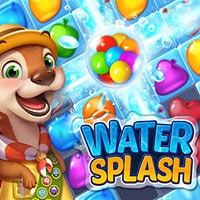 The world's coolest new matching 3 adventure, Water Splash Game! Match the colorful water balloons and feel cool streams! Adorable otter Oris really loves water! One day, evil crocodile Mr. Croker invaded the Animal's cities and stole town's water! Match many balloons as possible with Oris to defeat the evil crocodile in Water Splash Game! Clear levels and bring water back for Oris and his friends! If you have a mania for match 3 game, puzzle game or crush game, You must play this cool game! You can play this game on all devices. So enjoy and have fun.
Water Splash Game Features:
Never ending exciting match 3 puzzle game! Over 1,900 awesome levels! Updates will be continued! What if I match the cross balloon with the color balloon…? Match the various types of balloons as many as you can! If you match more than 4 balloons, you will get a special balloon and you can even crush solid rocks! Who is the best match 3 mania in Water Splash? Play with friends and see who can get the highest score! If you get the highest score, you are the best match 3 mania! So can you clear all levels with 3 stars? If you have a mania for match 3 game, challenge now!
Who moved my candy? If you match the balloon with the candy, you will get sweet candies! In Water Splash Game, match the candies as many as you can and get special gifts! So candies await you now! Go! Rubber Duck! Get rid of all obstacles! With the colorful and powerful items, you can get rid of all obstacles such as mini crocodiles, dolphins and rubber cones! So enjoy and have fun in playing Water Splash Game.
Also make sure to check out Pool Party Game and Pool Party 2 Game. You may enjoy playing them.