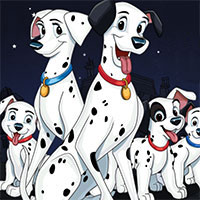 101 Dalmatians Match and Dash is a fun html5 flash game. Based on the classic Disney film 101 Dalmatians, The game is separated into two modes: Switch puzzle and Maze Rescue. In the first game mode, your goal is to move the tiles around to match the smaller painting displayed. You have to complete the puzzle with-in the specific time to win. In the second game mode, you will play as one of the dogs and move around the maze, collect footprints, and avoid the enemies that are chasing you.
Help the two cute Dalmatians Pongo and Perdita rescue their puppies from Camilla and her henchman in this fun Disney game 101 Dalmatians: Match and Dash! Collect footprints to find the puppies or re-arrange the paintings in this game!
101 Dalmatians Match and Dash is a free online puzzle game on Round Games.