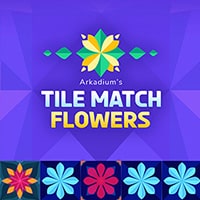 Add some brightness to your day with this multilayered matching game Arkadium's Tile Match Flowers featuring vibrantly colored flowers and bold patterns. Tile Match Flowers is not your ordinary matching game. The goal is to find a matching pair within the layers of each tile. Each element can be matched separately, from a flower in the foreground to a colorful pattern in the background. Accuracy and speed will move you to new levels with increasingly complex and colorful patterned tiles.
Challenge yourself to reach a new target score in Arkadium's Tile Match Flowers Game:
Earn a Time Bonus by making tile matches quickly in succession. Be careful with your matches to avoid mistakes – balancing speed and attention to detail will bring you to the top of the leaderboard in this engaging tile match game. This refreshing tile-matching game will keep you on your toes. Each element in the tile can be matched separately. Whether it's in the top, middle, or bottom layer of the tile. You can play this game on all devices. So enjoy and have fun.
To play Arkadium's Tile Match Flowers Game, select an element in a tile by tapping or clicking on it. Next, click another tile with a matching element. If a tile's border is highlighted, you must find another tile with the same element to create a match. How accurately and quickly you make your matches will improve your score. Be careful about which tile you select. Once you tap or click it, you must match the highlighted tile. Easy to pick up but difficult to master, Tile Match Flowers Game will keep you on your toes – give it a try today.
Also make sure to check Zoo Tile: Match Puzzle Game, you may enjoy playing it.