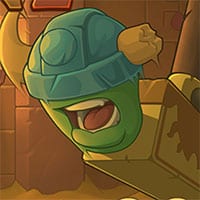 Broken Horn 2 is another physics puzzle game where your goal is to safely lead our clumsy green hero to safety. This time, our horned hero fell into an ancient Egyptian tomb by accident. Help him sneak inside the tomb, find the treasures inside and get out safely. The tomb is filled with various traps, contraptions, and mummies that roam around and guard the place. Will you be able to help our clumsy hero this time? The faster you complete the level, the bigger your score will be!
Start another adventure with our clumsy little fellow as he fell inside an ancient Egyptian tomb full of dangerous traps in Broken Horn 2! Avoid various traps and never get in contact with the mummies that guard the place.
Broken Horn 2 is a free online puzzle game on Round Games.