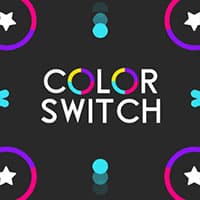 Bounce up and fly through the matching hues! In Color Switch Game, you must have quick reflexes to score. Touch the change orb, and look at your new shade. Then, wait until the perfect time to glide through the next spinning circle!
The Color Switch free edition features the same simple controls and high-speed action as the mobile game. If you thought Flappy Bird was the most addictive and fun arcade title, think again! This brand new game will test your reaction speed and guts during an endless array of rainbow-colored obstacles.
Start the game on your laptop or desktop, and enjoy all of the fun on a big screen. Turn up your speakers, warm up your mouse, and try to earn the best score of the day. Play Color Switch Game online for an undeniably addictive, joyful experience in your browser!
Also make sure to check out Color Switch Challenges Game, you may enjoy playing it.