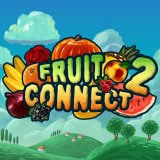 Connect 2 of the same fruits in Fruit Connect 2! This fruit connect-2 game has hand drawn graphics and many levels to enjoy.
Try to connect the pictures of fruit by selecting matching pairs. The connect can only made if the line between the tiles makes only two or fewer 90 degree turns.
Fruit Connect 2 is a free online puzzle game on Round Games.