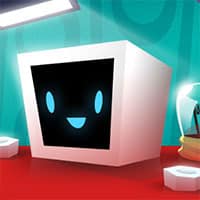 Heart box is a puzzle game with many levels and tricks. The goal is to get the smiley cube inside the red tray either by making the cube fall into it or the other way around. The level starts out easy, but it gets a lot more creative and difficult. Later levels will introduce cool contractions.
Take the robot through all the experimental puzzle rooms of Professor Rat to release him from the charger! Use the properties of 16 physical objects for complete all puzzles: test-cube, bowling ball, spring trampoline, dynamite, movable platform, conveyor, fan, pneumatic tube, laser, portal, dynamic saw, switch button and others!
Heart Box is a free online puzzle game on Round Games.