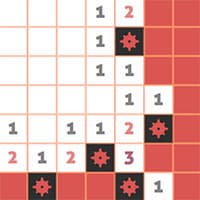 Minesweeper Online is a challenging puzzle game based on the classic Minesweeper game that everyone knows and love. The game is remade with colorful vibrant graphics and a cool save progress feature. Just like the original game, your goal is to find all the mines in the minefield without blowing up. Mark the mines with a flag and explore every corner of the board. The game features several premade levels, and you can also create your very own board. You'll win if all the marks are placed correctly or all empty squares are opened.
Do you love the classic Minesweeper game? Then test your analytical skills by locating all the landmines in this colorful game remake – Minesweeper MRBL! More features will be coming soon such as leaderboards and more game modes!
Minesweeper Online is a free online puzzle game on Round Games.