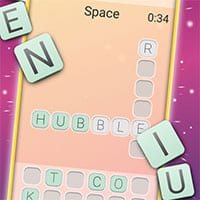 Mini Crossword Genius is a fun puzzle arcade game where your goal is to complete the word puzzle by adding the missing letters to the word. If you need any hint, clues, or assistance, you can use the hint function. Every time you play, a random world will be generated for you to solve. Unscramble pairs of words to solve the mini crosswords and have fun while exercising your brain. The game starts easy with so many clues, but the game will become harder and harder every level.
Exercise your brain and have fun at the same time in this awesome and addicting puzzle game! Complete all the words in Mini Crossword Genius! Drag the letters from the screen to the empty boxes to form an English word.
Mini Crossword Genius is a free online puzzle game on Round Games.