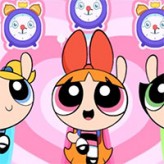 Morning Mayhem is a fun puzzle game featuring the Blossom, Bubbles and Buttercup of the popular cartoon TV series, The Powerpuff Girls. In this game, you must help the three find their way to the door and get the alarm clocks along the way to overcome their sleepiness and won't be tardy. Rearrange the tiles accordingly to lead the heroines out of the house and to the enemy rampaging across the town.
Start your morning with a big and powerful blast! Trouble woke up the entire city of Townsville! Join the Powerpuff Girls as they defeat the villain in Morning Mayhem! Help the girls overcome their tardiness and find their way to the door and fight the villain.
Morning Mayhem is a free online puzzle game on Round Games.