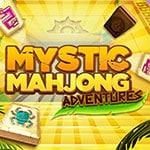 Mystic Mahjong. In this mystic duel of vanishing tiles, speed is the path to triumph. Play against other players in this multiplayer Mystic Mahjong Game! The golden tiles at the bottom of the playing field are yours, and the silver ones at the top belong to your opponent. As quickly as possible, find and click on pairs of your tiles with the same image to clear them. You can only click on tiles that have at least 3 of the 6 sides free. In the middle of the playing field, each player has two small piles of tiles hiding 2 items.
When your opponent's items are revealed, you can click on them to help you clear tiles. (But remember, your opponent has the same opportunity to click yours!) Win the game by clearing more of the board than your opponent. The game is over when all the tiles have been cleared from one side of the board, or when time is up. Enjoy and have fun in playing this free online game. Good luck.
Make sure to check out This Game. You may enjoy playing it.