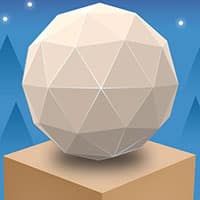 Poly and Marble Maze is a maze-type platformer video game where you take control of a ball named Poly. In this game, your goal is to guide the lost ball through a mysterious marble maze. The game features a wide selection of challenging levels with beautiful and artistic visuals. The goal of the game is to collect all three crystals scattered across the level and reach the flag on the end. The game incorporates puzzles and obstacle-avoiding challenges.
The cute ball Poly found himself inside a mysterious yet beautiful Marble Maze! Help Poly find a way out in Poly & Marble Maze! Will you be able to overcome the obstacles and solve the puzzles within the marble maze? Good luck and have fun!
Poly and Marble Maze is a free online puzzle game on Round Games.