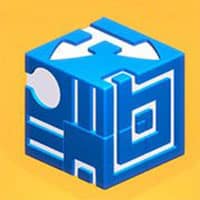 Scalak is a magnificent puzzle game that presents a whole new puzzle challenge and unique 3D-based gameplay. You are presented with a variety of different levels – during each level you must create solid blue shapes – there is a series of squares, each with parts missing. The pieces that slot into these missing parts are scattered around the squares.
You must effectively fill in all of the white space on each square by matching the right pieces in the right position. There is only one correct result so think carefully about how you move each piece! As you progress the levels become increasingly difficult and you must match more complex shapes. Can you complete every level?
Scalak is a free online puzzle game on Round Games.