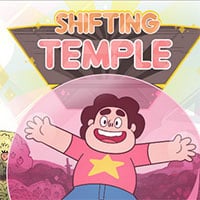 Shifting Temple is a cool physics puzzle platformer hybrid game based on the popular Cartoon Network Show Steven Universe. In this game, Steven is finally ready for his first mission. And that is to investigate the temple for any gem activity. Help Steven gather gems and complete all 30 levels as he roll his way to the temple! Try to collect all the gems and reach the exit portal before time runs out to get the three-star level rank!
Collect gems and find your way around to get to the portal by flipping and shifting the entire temple in this physics-based game! Collect gems and use it to purchase and unlock various fun costumes.
Shifting Temple is a free online puzzle game on Round Games.