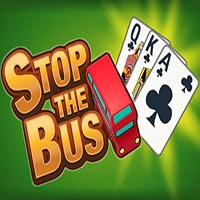 In Stop The Bus Card game you must make sure that you win enough rounds and most importantly do not lose many rounds, to try and throw your opponents off the bus. Like a lot of Crystal Squid card games, the tutorial is a brilliantly helpful way of learning how to play this solitaire game. There are three difficulty levels, and we must admit that this free card game got us hooked!
In Stop The Bus Game: Collect and swap your cards to get as close to 31 as you can with a single suit. Aces as you might expect are worth 11 points. Jacks, Queens and Kings are worth 10 points. Additionally getting any three of a kind (of course in three different suits) is always worth 30 points. So for example having a hand of the 2 of hearts, 2 of diamonds and 2 of clubs is worth 30 points. You get three bus tokens, and you only lose bus tokens if you are last in the round. So the most important thing in Stop The Bus Game is to make sure that you are not last.
Once you are satisfied that you can either win a round (or not come last). Then you can stop the bus! Each player then has one last chance to improve their hand before all the scores are added up. The player with the lowest number of points get's a bus token removed. To win you must drive all the other players out of the game! Stop The Bus Game is exactly suitable for the game lovers who want to play a game in their time. So enjoy and have fun.
Also make sure to check out Spite and Malice Game, you may enjoy playing it.